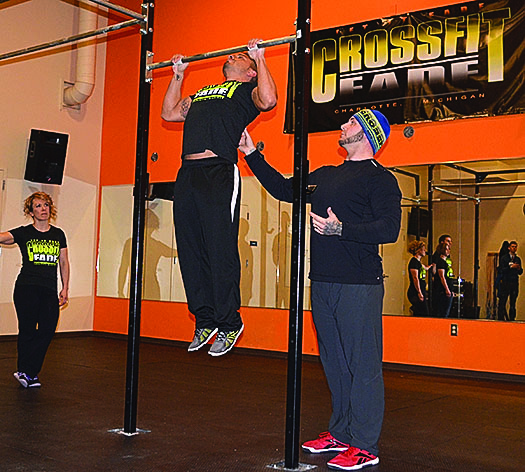 Fitness can mean a variety of things to different people. For some, it's an elusive goal. For others, it's merely a hobby. For Eric McGill, fitness has long been a way of life.
He first got serious about his personal fitness more than 15 years ago when he started competing in strong man competitions throughout the Midwest. That led to competitions in Olympic Weight Lifting, then kettle bell sport. His journey eventually led him to crossfit.
"I was introduced to so many variations of fitness," McGill said. "When I found crossfit, it was right up my alley.  The fitness program itself is the best I've seen."
McGill took the next step in his fitness evolution three years ago when he became a crossfit instructor, wanting to share his enthusiasm for fitness with others. He began leading sessions in East Lansing before being presented with the opportunity to expand his new business in his hometown.
Approached last summer by Patrick Sustrich, executive director of AL!VE, McGill saw the perfect place to spread his passion for crossfit. He opened Crossfit Fade in Charlotte in July of 2014.
"I like people to come here and let their problems fade away," McGill said. "People come back here and get zoned in on their fitness for an hour."
What McGill loves about crossfit is its focus on three different modalities of fitness — cardiovascular fitness, weightlifting and gymnastics.
"Our programs are a great combination of all three modalities," he said. "One day you could be doing high intensity training for eight to 12 minutes. The next day you might be doing a low-intensity workout for 50 minutes and then the next day you are working at a moderate level for 20 to 30 minutes. We utilize the different modalities at different rates."
The goal in utilizing different aspects of fitness is all about teaching you how to move better, McGill said.
"The better you can move, the better you can live," McGill said.
Crossfit Fade is offered through a monthly membership with class times held at various times, six days a week. Classes run Monday at 6 and 9 a.m., noon and 6:30 and 7:30 p.m.; Tuesday through Thursday at 6 and 9 a.m., noon, 4:30, 6:30 and 7:30 p.m.; Friday at 6 and 9 a.m., noon and 6:30 p.m.; and Saturday at 9, 10:15 and 11:30 a.m. One-on-one introductory sessions are also offered by appointment. Text CFFADE to 95577 to receive a free week trial. McGill will also host a free information seminar on "What is crossfit and why you should do it" on April 4 at 9:30 a.m. at AL!VE.